Leaky or Damaged Chase Cover? Our Certified Sweeps Can Replace It
There are numerous hazards associated with a leaky or damaged chase cover. Without a properly fitted one in place, water can easily enter your prefabricated chimney, breaking it down significantly and eventually spreading damage to the rest of your home. Water damages also invite the possibility of mold growth and clogs.
Fortunately for those living in Pittsburgh, we have the tools and training to replace your damaged chase cover with a new, reliable one.
Common Chase Cover Problems
What are the most common problems we see with faulty chase covers?
Metal chase covers are prone to rust and corrode, which can quickly lead to leaks and water damage.
Whether due to corrosion or some outside collision, cracks in your chase cover will keep it from performing optimally.
If the cover wasn't installed correctly from the start, you're bound to experience issues, which is why working with a professional is always the recommended approach.
Like chimney caps, chase covers need to be sized appropriately to your system, and if they're not, you'll be prone to leaks and other issues.
A cheaper, lower quality cover won't last as long and can invite damage once deterioration occurs – with chase covers, you get out of it what you invest into it.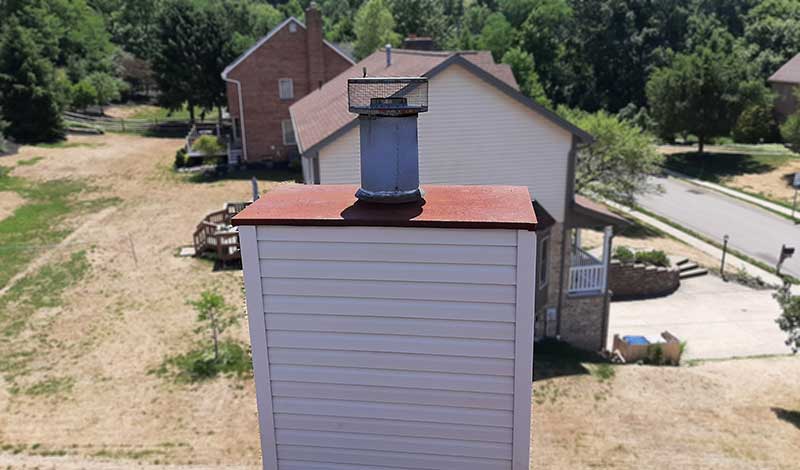 What Causes Chase Cover Damage?
Typically, chase cover damage will be caused by poor weather, animal tampering, an outside collision, or corrosion due to exposure to the elements.
The good news is that these can be avoided if you invest in a quality chase cover made from durable materials. You should also have it sized and installed by a licensed and certified chimney sweep.
Trust our techs for the job. We're members of the National Chimney Sweep Guild (NCSG), certified with the Chimney Safety Institute of America (CSIA), and we invest in a number of other trainings and certifications to ensure we stay educated and informed on how to best serve our customer base.
Causes of Chase Cover Damage: